NEW BOOK PUBLISHED BY MEL BAY !
Also available on Amazon : https://amzn.to/38mAwHv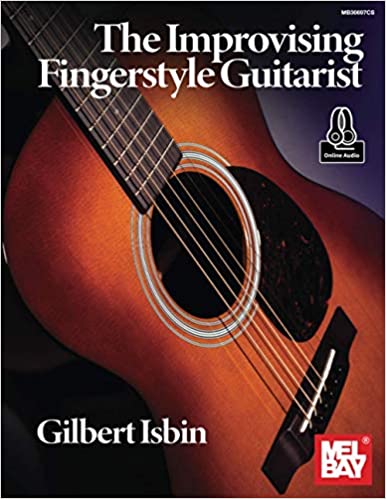 Gilbert Isbin's compositional and performing style defies genre, blending elements of contemporary classical, jazz, early music, world music and improvisation. He has been compared favourably to the likes of Ralph Towner and Egberto Gismonti, his music described as "oblique, subtle, and hauntingly beautiful"
Mel Bay: 'Belgian composer Gilbert Isbin is one of the most interesting, dynamic and poetic composers writing for the guitar today.'
He has performed on festivals and major venus throughout Europe and the US with a.o Cameron Brown, Joe Fonda, Scott Walton, Hugh Hopper, Jeff Gauthier, Vinny Golia, John Ruocco, Andre Goudbeek, Pierre Vaiana, Ernst Reijseger, Jaap Blonk, Hanka Rybka, Marie-Paule Franke, Iep Fourier, Michel Godard, Sandro Di Stefano, Christian Vasseur, Bruce Arnold, Sandor Szabo, Albert Giminez, Philippe Deschepper, Rudy De Sutter, Jie Ma, Chris Joris, Alex Cline, Wolfgang Reisinger, Ivo Vanderborght, Jatinder Thakur, Geert Verbeke, Balazs Major, Dirk Wachtelaer…
Some Concerts : Holland Festival (Amsterdam, NL), Italia Guitar Festival (Rome, It), Acoustic Stings Festival, Raalte 2002 (NL), Lullabyes Festival UK (St. Martin's Church In The Fields, London), Tourcoing Jazz Festival (F), Festival Schnittpunkte der Musik (Austria), Limmitationes Festival 2007 (Austria) , Jazz en Nord Festival (F), European Trytone Festival (NL), WIM Festival (B), Cactus Festival (B), Concertgebouw Brugge 2003, Music In Mind Festival (B), Paulusfeesten (B), Gentse Feesten (B), Jazz Halo Music Days (B), De Singel (B), Ancien Belgique (B), Les Dimanches De L'Impro (F), and tours in The Netherlands, Great Britain, Hungary, Poland, France, Germany, Austria, Los Angeles, San Francisco….
His compositions for guitar(s)), lute(s) and ensemble, appr. 400 thus far, are published by Mel Bay, Berben Edizioni Musicali, The UK Lute Society, Lantro Music, Golden River Music, Kameleon Editions Auurk Ed, VRT Publishing. They have been performed and recorded by a.o guitarplayers Rob MacKillop (Uk), Sandro Di Stefano (It), Frabrice Desmets (Lux), the Guitarquartet Four Times A Lady (B), Quartetto Chitarristico Italiano, the guitar Duo D'Atenas, the Spectra Ensemble (B), Peter Verhelst, De Camer van Musiecke (B), lutenists David Van Ooijen, (The Netherlands), Stuart Walsh,(Uk), Andrés Bonilla (Argentina), Stathis Skandalidis (Greece), reedplayer Kurt Bertels (B), marimbaplayer Jonathan Bonny (B), singers Marie Schoenbock (F), Marie-Paule Franke (B), Nikkie van Lierop (B), bassplayers Cameron Brown, Joe Fonda, Scott Walton, percussionplayers Vasilis Stefanopoulos, Chris Joris, …
His composition 'Everything Is Splendid' for altosax guitar and bass, recorded by Kurt Bertels, Peter Verhelst, Vasilis Stafanopoulos is featured on the CD 'Fingerprints 3', released by KLARA (National Belgian Radio Broadcast).
Articles/reviews/interviews on his guitar and lute playing, Cds, compositions in a.o. Silvia Amato's thesis on Contemporary Lute Music (La Musica Moderna e contemporanea per liuto), The Lute News (UK), Geluit/Luthinerie (B), Le Joueur du Luth (FR), Nostalgia (JP), Tablatuur (NL), the LSA Quarterly (USA), Lauten-Info (Germ.), Il Liuto (IT), Aalga (ARG), Guitar Player (USA), Cadence (Canada), Jazz Life (Japan), Jazz Dimensions (Germ.), Record Collector (UK), Akustik Gitarre (Germ.), Acoustic Guitar Magazine (USA), …
4 books are to be published by Mel Bay: ' 24 Guitar Pieces' by Gilbert Isbin & Edited and Recorded by Rob Mackillop and 'Classical and Contemporary Studies for Bass Guitar' featuring studies by Giovanni Bottesini and Gilbert Isbin, (Edited and Recorded by Rob Mackillop) and 'The Improvising Fingerstyle guitarist' and ' The Improvising Lutenist'.
Gilbert Isbin/Iain Cameron write music for documentaries and video essays by Didier Eeckhout.
Contact: gilbert.isbin@gmail.com