SOLOWORKS1995
Gilbert Isbin Solo
Isbin is certainly a creative artist. His work is a mixture of nuances, subtleties, overt statements, and explosive bursts of sound. Although the album is not lengthy, it presents an ample enough dose of Isbin's talent to cause you to be awed by his prowess.
Frank Rubolino, Cadence, (U.S.A.), April 1998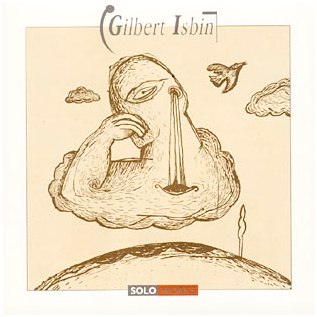 GILBERT ISBIN – SOLO WORKS
1) Speak High
2) Nuances
3) Hioe
4) Joy
5) Signals
6) Heartsong
7) Ogle
8) Toeka
9) Vertical Smile
10) Ballad
11) Clue
12) Glance
13) Ta
All compositions by Gilbert Isbin
Gilbert Isbin: classical guitar, 'prepared' classical guitar
recorded at TONESETTERS HOMESTUDIO, Torhout (Belgium), December 10, 1994 and January 14, 1992 by Jos Demol
art work: Jan Pieter Cornelis
ALL ABOUT JAZZ.COM, Oct. 1999, USA (Glenn Astarita) :  It is safe to say Isbin stretches matters to the limits of perception and comprehension while twisting his classical guitar into knots as he fervently pursues strange sounds and at times, discordant themes.
PLANET JAZZ (Spring 99, Canada, Ethan Zames) : This is one of the most exciting guitar Cds I've heard in a long time.
LE JAZZ, on-line magazine, N°8, France, Pierre Dulieu  : A haunted and minimalistic music like Paul Bley can play.
AKUSTIK GITARRE (n°3, 4 Jahrg, 1997, Germany): On his newest CD Soloworks you can hear 13 short compositions which ask an intellectual challenge of the listener and point out new directions for the guitar.
MUSINGS.COM, Aug.1999, UK, (Richard Cochrane) : Isbin is one of the most enthralling avant-classicists around. He may be one step back from the edge of the envelope, but that just gives him the perspective to make his music as intelligent as it is. Highly recommended to all, and indispensible for guitarists and afficionados of the instrument.
JAZZ-SQUARE  Eugene Dolgikh : It can be recommended to all lovers of free improvisation, as well as to those who are just curious: every unorthodox listener will definitely find something for himself in there.